After a lengthy, multi-step down-select process, 4 collegiate teams were selected to present their innovative ideas to generate lift using Hypersonic Inflatable Aerodynamic Decelerator (HIAD) technology in an intense design review during the 2016 Breakthrough, Innovative, and Game-changing (BIG) Idea Challenge Forum, held April 25-26, 2016  at LaRC.  The University of Illinois at Urbana-Champaign was awarded first prize for their presentation titled "Cable-Controlled Aeroshell Deceleration System."
Their Forum competitors included:
Georgia Institute of Technology –"Design of a Novel Hypersonic Inflatable Aerodynamic Decelerator Design for Mars Entry, Descent, and Landing"
Purdue University – "Enabling Mars Exploration Using Inflatable Purdue Aerodynamic Decelerator with Deployable Entry Systems (iPADDLES) Technology"
State University of New York at Buffalo – "A Novel Deceleration Concept Based on Modulating Lift-to-Drag through Actuating the Payload Mass"
Presentations were evaluated by the following BIG Idea Challenge Judges:    Neil Cheatwood, LaRC; Anthony Calomino, LaRC; Michelle Munk, LaRC; Steve Sandford, SGT; and Mary Wusk, LaRC.   The BIG Idea Challenge is sponsored by NASA's Game Changing Development Program and managed by Shelley Spears and Stacy Dees of the National Institute of Aerospace.
BIG Idea Website: http://bigidea.nianet.org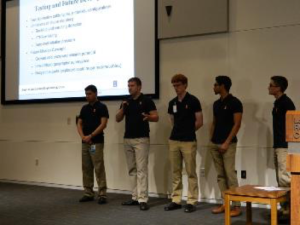 University of Illinois students present at BIG Idea Forum at NASA LaRC