NIA Distinguished Educator in Residence, Sharon Bowers, selected to receive McDaniel College Trustee Alumni Award and will be the featured guest for McDaniel College's smartTALK program.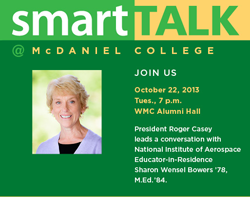 Sharon Bowers was selected to receive her alma mater's Trustee Alumni Award on the basis of her distinguished professional achievements.  Sharon is an adjunct professor at McDaniel College where she is developing and teaching five graduate courses at the college that will lead to a certificate in elementary STEM education.
 Sharon has taught science to multiple age groups for more than 30 year and her work with children earned her recognition as Secondary Science Presidential Award Winner for Virginia.  Sharon is a middle school science teacher with Virginia Beach City Public Schools and has been working with NIA's Center for Integrative STEM Education through an IPA for 6 years where she supports numerous LaRC OED initiatives, including the Langley Pre Service Teacher Program,
NASA eClips™, SpaceMath@NASA and NASA RealWorld-InWorld Engineering Design Challenge.  She is a frequent presenter at national and regional STEM education conferences.
On October 22 at 7 pm, McDaniel
College President Roger Casey will lead a public conversation
with Sharon for its smartTalk series in Westminster, MD.