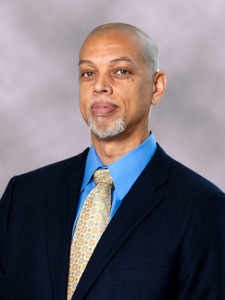 North Carolina A&T State University Langley Distinguished Professor
Center for Small Satellite Systems and Technology for Observation and Exploration
100 Exploration Way, Hampton, VA 23666
Tel: +1(757) 325-6749; Fax: +1(757) 325-6710
Education
Ph.D., Electrical Engineering, North Caroline State University, Raleigh, North Carolina, 1990
M.S., Electrical Engineering, Georgia Institute of Technology, Atlanta, Georgia, 1982
B.M.E., Electrical Engineering Option, General Motors Institute, Flint, Michigan, 1980
Work Experience
Co-Director, Advanced Space Technologies Research & Engineering Center (ASTREC), 2008 – Present.
North Carolina A&T State University Langley Professor, National Institute of Aerospace, 2010 – Present.
North Carolina State University, Assoc. Professor, 2005 – 10.
Research Interests
Development of Pico/Nano/Micro-class satellites
Formal Methods in the design state of the satellite life-cycle
Autonomous operation of satellites that can self-heal, optimize, and reconfigure
Enabling deep-space missions with little-to-no human interaction
Current Research
Edmonson's research is focused on technology development for small satellite systems and subsystems. Small satellites in the pico to nano class represent an entirely new frontier that can be used for space exploration, Earth observation, and space situational awareness. The aim is to increase the functionality of small satellites, which will in turn, enable deep space servicing missions. The over-arching endeavor of this research is to provide systems engineering methodologies and tools that will yield a systems level design space exploration that is optimized for flexible and reconfigurable space systems with the goal of providing a reduced design, build, launch, life cycle.
Publications
W. Edmonson, R. Van Zyl, N. Fitz-Coy, E. Jansen, and D. Visser, Nano-Satellite Constellation for African-centric Earth Monitoring, 4S – Small Satellites Systems and Services – Symposium 2012, Peteroz, Slovenia, June 4-8, 2012.
Edmonson, W., "A New Perspective on Small Satellite Design: A Model-Based Systems Engineering Approach," in Proceedings of the French South African Institute of Technology's First International African CubeSat Workshop, 30 September-2 October 2011, Cape Town, South
Edmonson, W., and Fitz-Coy, N., "What is a Smartly Risk Tolerant Small Satellite Design Process," in Proceedings of the 1st International Academy of Astronautics Conference on University Satellite Missions and CubeSat Conference, 24-29 January 2011, Rome, Italy
S. Hattangady, W. Edmonson, W. Alexander, "Block Floating Point Interval ALU for Digital Signal Processing", Reliable Computing, Vol. 15, Issue 2, 2011.