Research and Innovation Laboratories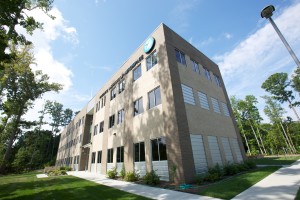 The Research and Innovation Laboratories at the National Institute of Aerospace were opened on April 12, 2012. The event represented a tremendous step forward in enabling both technology and economic development. The facility fosters innovation and strengthens Virginia's economic future by providing opportunities for industry and government partners to co-locate on collaborative research and development projects.
As the Institute's first dedicated laboratory facility for faculty, students, and staff research, the Research and Innovation Laboratories facilitates world-class scientific research and engineering services to NASA and other industry and academic partners.
For the first time since the Institute's inception, NIA faculty, students, and staff will be able to collaborate with NASA and other partners on NIA-led research endeavors in facilities complimentary to those at NASA Langley Research Center.  The building is unique in that it was constructed, from the outset, to facilitate collaboration between aerospace staff, industry, and students within its shared-use facilities.
The first two floors of the building are exclusively dedicated to laboratory research facilities, with both NIA and private industry laboratories holding residence in the new space. The third floor houses the Peninsula Technology Incubator, NIA's Educational Outreach offices, an auxiliary office of the Virginia Tech Department of Engineering, and other offices.
Click for more information about our Wet Chemistry Laboratory. 
Organizations interested in using our facilities, or locations within it, should contact Dr. Karl Drews, NIA Vice President of Operations: 757.325.6710 or karl.drews@nianet.org.
Lab Directory:
The Alexander Brown Center for Adaptive Aerospace Vehicle Technology, Morpheus Laboratory
Director: Prof. James E. Hubbard Jr., Samuel P. Langley Distinguished Professor, University of Maryland
Contact: jhubbard@nianet.org | 757.325.6830
The Laboratory for Photonics, Sensors, and Solar Energy
Director: Prof. Mool Gupta, Samuel P. Langley Distinguished Professor, University of Virginia
Contact: mgupta@virginia.edu | 757.325.6850
NIA Nanomaterials Lab
Director:  Dr. Sang-Hyon Chu
Contact: schu@nianet.org  | 757.864.8215
The Bruel & Kjaer Laboratory for Aerospace Acoustics, Vibration and Noise Control
Director: Prof. Christopher Fuller, Samuel P. Langley Distinguished Professor, Virginia Tech
Contact: cfuller@nianet.org | 757.325.6965
The Integrated Structural Health Management Laboratory
Director: Prof. Fuh-Gwo Yuan, Samuel. P. Langley Distinguished Professor, North Carolina State University
Contact: yuan@ncsu.edu | 757.325.6725
The NIA Rapid Prototyping Laboratory
Coordinator: Zaremski, Suzanne
Contact: suzanne.zaremski@nianet.org | 757.325.6786
The Space Systems Laboratory
Directors: Alan Wilhite Samuel P. Langley Distinguished Professor, Georgia Tech, and William Edmonson Samuel P. Langley Distinguished Professor, North Carolina A&T State University
Contact: wilhite@nianet.org | 757.325.6810 or william.edmonson@nianet.org | 757.325.6749