Higher Education Programs
NASA's RASC-AL competitions fuel innovation for aerospace systems concepts, analogs, and technology prototyping by bridging gaps through university engagement. The RASC-AL Aerospace Concepts Competition is open to undergraduate and graduate college  students studying fields with applications to human space exploration (i.e., aerospace, bio-medical, electrical, and mechanical engineering; and life, physical, and computer sciences). RASC-AL projects allow students to incorporate their coursework into real aerospace design concepts and work together in a team environment. Interdisciplinary teams are encouraged.
Through RASC-AL Aerospace Concepts, teams and their faculty advisors will design innovative solutions with supporting original engineering and analysis in response to one of several themes that change from year to year.Based on a review of competitive proposals responding to one of those themes, 12-15 teams are annually selected to compete at the summer RASC-AL Forum in Cocoa Beach, Florida.  At the Forum, they present more fully developed concepts to a panel of NASA and industry subject matter experts in oral and poster presentations. Each finalist team receives a monetary award to facilitate full participation in the RASC-AL Forum. The teams with the top two winning papers at the Forum will be invited to present their design projects to industry experts at a major aerospace conference that year (additional travel stipends provided).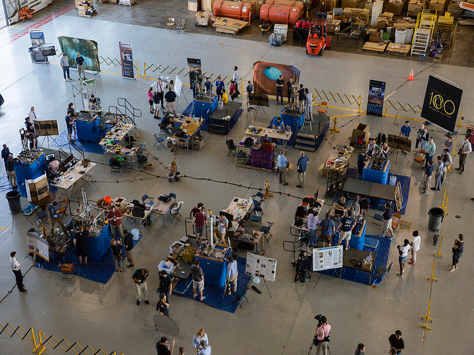 Periodically, Special Edition RASC-AL programs are established to elicit students' fresh perspective on developing concepts that may provide full or partial solutions to specific design problems and challenges currently facing human space exploration.  In the past, these special edition competitions have included design-build-test programs for subsystem and component level prototypes (i.e., the RASC-AL Exploration Robo-ops and RASC-AL Lunar Wheel Design challenges), as well as technology demonstrations for critical ISRU capabilities (i.e., the 2018 RASC-AL Special Edition: Mars Ice Challenge).  Stipends are awarded to each finalist team to support the development of prototypes for the Special Edition Challenge.
The 2020 RASC-AL Special Edition: Moon to Mars Ice & Prospecting Challenge provides undergraduate and graduate students with the opportunity to design and build hardware that can extract water and assess subsurface density profiles from a simulated off-world test bed to advance critical technologies needed on the surface of the Moon or Mars.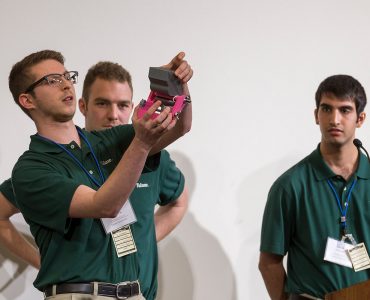 The Breakthrough, Innovative, and Game-changing (BIG) Idea Challenge offers a real world experience for university students in the development of the systems needed to support NASA's exploration goals.  The BIG Idea Challenge seeks novel and robust ideas and applications relating to a new theme each year.  Teams of undergraduate and graduate students will submit their proposals and videos of their BIG idea for review.  Selected teams will advance to the next stage of the competition and submit full technical papers, posters, and proof-of-concept testing results to a panel of NASA and industry judges at a face-to-face design review.  Stipend awards are provided to facilitate full participation in the competition, including prototype development and testing.
The Federal Aviation Administration sponsors the FAA Challenge: Smart Airport Student Competition ("Smart Airport Challenge") to recognize students with the ability to demonstrate innovative thinking focused on improving the efficiency and effectiveness of smart technology in and around the airport environment while enhancing the overall traveling experience. The FAA intends to incentivize university-level students at accredited United States-based colleges and universities to think creatively in developing solutions to transportation technology challenges while addressing the human factors aspects of the traveler's experience, and to share those innovations with the broader community.
In 2020, the FAA Challenge focuses on Smart Airports, providing undergraduate and graduate students the opportunity to design, build, and test smart technology that has the ability to improve traveler's transportation experiences from home, in the airport environment, and to his/her final destination.
NIA offers professional learning experiences for pre-service and in-service educators. Our graduate courses through McDaniel College lead to a certificate in elementary STEM education.
NIA's Education and Outreach team of award-winning project managers, educators, and multimedia producers designs and delivers innovative outreach products for students in grades K-12, at the undergraduate and graduate level, and for the general public. Internships provide students the opportunity to participate in either research or other experiential learning under the guidance of a mentor at NIA. These opportunities serve students by integrating interns with career professionals emphasizing mentor-directed, degree-related tasks.
The team supports the Center for Atmospheric Research and Education (CARE) at Hampton University (HU) by mentoring communications interns each semester from HU's Scripps-Howard School of Journalism and Communication. This project, funded by NASA's Minority University Research and Education Project (MUREP), places interns with NIA to demonstrate and utilize newly learned communication and marketing skills as tools for NIA and NASA education and public outreach efforts.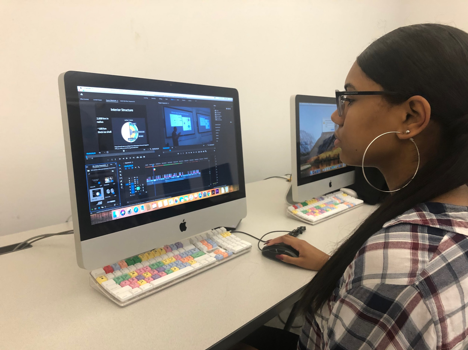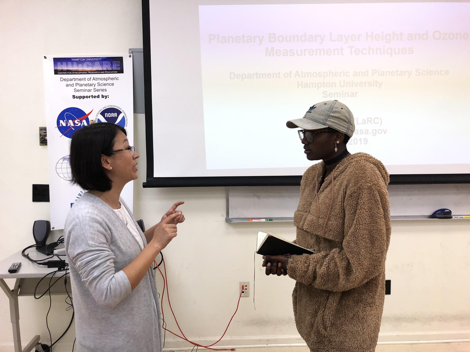 Principal Investigator
Shelley Spears
Director of Educational Outreach
National Institute of Aerospace
 shelley.spears@nianet.org
(757) 325-6732